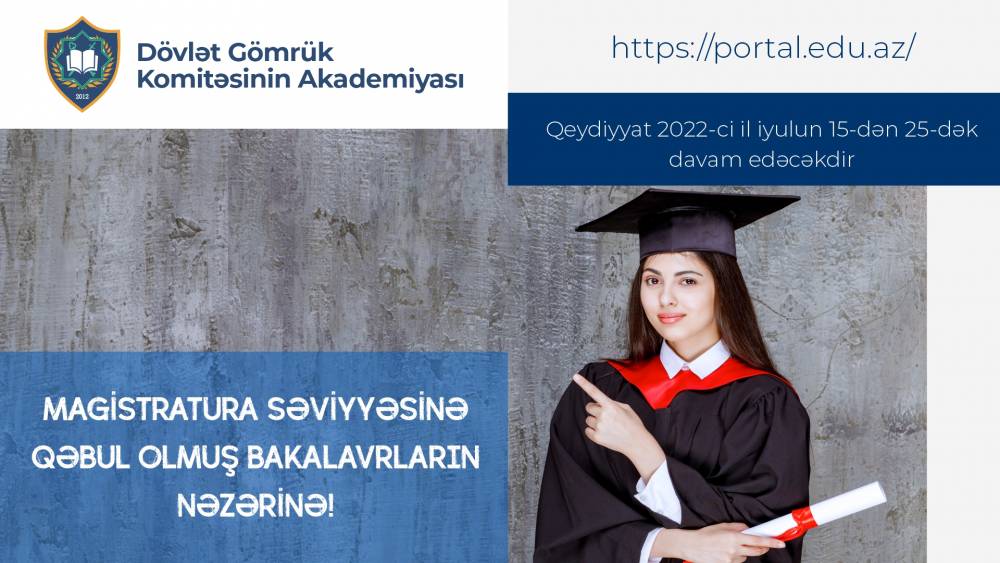 To the attention of bachelors admitted to Master's degree of ASCCA!
Those who have been admitted to the Master's degree programme of the Academy of the State Customs Committee must get registered online.
For this, it is necessary to register on the https://portal.edu.az/ platform, after entering the created cabinet, select the "Student registration for higher and secondary education institutions" service among the services provided.
At the time of registration, PDF copies of the following documents must be uploaded to the appropriate sections:
• a copy of identity card (ID);
• document on education – a notarized copy of the diploma and diploma supplement (those who completed bachelor's studies in previous years); Certificate of graduation for current year's graduates.
• 3x4 photo (on a white background);
• a copy of initial military registration certificate or military ticket (for boys);
• tuition payment receipt (only for those admitted on a paid basis);
• notarized copies of documents confirming exemption from tuition fees (for internally displaced people (IDPs) and other vulnerable groups of citizens)
Note: Undergraduates who do not register on the portal.edu.az platform on the mentioned dates will be excluded from the list of those accepted by the State Examination Center (SEC).
FAQs:
https://edu.gov.az/uploads/sual-cavab/2022/magistratura-sual-cavab.pdf
Contact us
e-mail: tedris@ascca.edu.az
phone: (012) 404-12-00